I'm having a happy night! I've been getting some great responses to the covers I did for the fantasy trilogy by Celine Kiernan – and have just been shown a couple of articles on the Book Smugglers blog which talk about them. The first two books are out and from what I hear, the covers are helping! Which is great because I love these books (The Poison Throne & The Crowded Shadows) and because I feel incredibly responsible. I mean, as Celine says about covers "Its all about seduction, all about how to get folks to walk over and take your particular book from a crowded shelf." Loving the books as I did I really felt the pressure to try to make something that people would want to hold in their hands.
Forgive me for including some quotes here but I was just bursting with pride! It's a great article. Celine's books have gone all round the world and there are 6 different covers for the trilogy, which really means 24 different covers… the article asks here about them all.
Celine: I think of all my covers, the ones that hit the mark in all three respects (story, tone and characters) are the Australian ones. They are quite simply stunning. Australian fans often take time to praise the cover art to me, this is, I suspect, very rare.
…
It's not immediately obvious but there are many subtle details on the AUS covers which reflect aspects of the story ( my favorite of these being the ravens that flow from cover to cover; the way Wynter is still wear Christopher's jacket on cover three, and most especially, the way she is carrying Razi's falchion sword: this is such a subtle and lovely symbol of a moment in book three where Wyn takes up Razi's burden when he can go no further.) Another huge reason for my love of these covers is the inclusion of Razi – it can't have been easy to come up with a design that included all three major characters, so many story elements, and such a strong sense of drama without cluttering the page. Lovely.
The full article is here. I am so happy that the experience for Celine was positive and that we were able to be in such close contact. It makes a big difference to be able to ask the author all those questions – I know I'd appreciate someone asking me.
And then there's this one which is a great article about fantasy cover art – the good the bad and the ugly! I love the graph of clichéd elements of cover art – from unicorns to swords and "the completely dark cover of meaninglessness". Mine fall under the heading (and she blushes) of "Really Awesome Cover Art In Fantasy" which, they are happy to note, also seem to sell the books.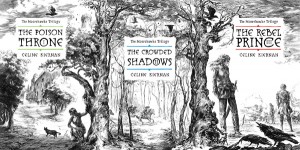 My favourite response of all though is a reader who bought the book overseas then, on seeing the Australian covers, had to buy it again
That's more than I could have hoped for!